This article describes the BT Business SIP Trunk and an approach to implementing it with the open-source Asterisk™ PBX telephony platform. This document is based on the work that I did implementing BT SIP Trunk for my business along with the commercial and technical challenges I found on the way and finally presents an end-to-end solution that has been successfully deployed.
The first half of this article is largely about the problems ordering the service and getting it delivered…. if you want to skip
BT Business SIP Trunk
BT Business SIP trunk is a variant of SIP trunking offered by BT Business to Small and Medium Enterprises (SMEs) via the BT Local Business/BT Business route to market and as far as I can tell is quite different to the BT SIP product used on domestic broadband and quite different again to the BT One Voice product portfolio offered to large business and public sector.
So there's a nice little BT White Board Session video about SIP here: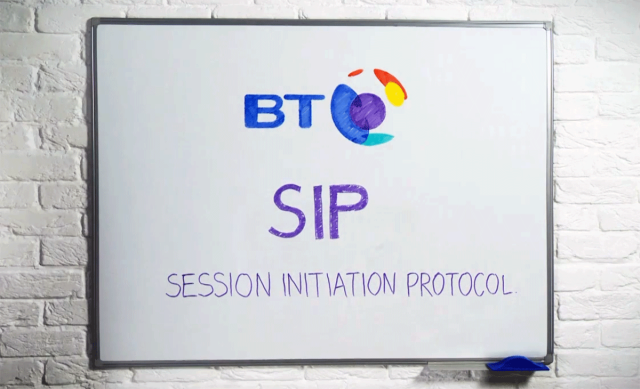 and a brochure you can down load that looks like this: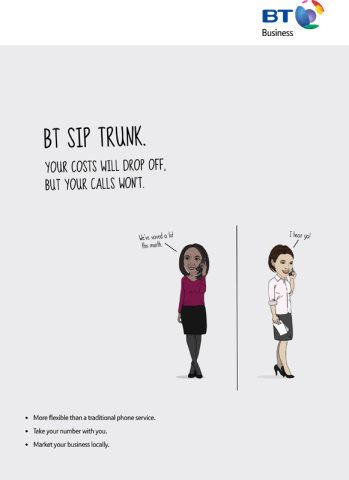 Great! I want it… how soon can I have it?
BT SIP Trunk runs over BTnet
Well that's that it says in the video?  Well, yes, sort of … to get BT Business SIP Trunk you have to be a BTnet internet customer, i.e. you have to have a 21CN Leased Line internet connection with BTnet – typically with 10-500Mbps of connectivity.
This is a "qualifying criteria" in order to purchase the BT Business SIP Trunk product, i.e. a commercial limitation, not a technical limitation – why's that?  Well the BT SIP Trunk platform is available on a public IP address that is reachable from anywhere – they mention this somewhere as you can use it as part of your disaster recovery planning!
Okay, well I already have a BTnet 100Mbps circuit so I qualify and I still want it…
Ordering the service
We're an SME (15 employees) and don't have a dedicated account manager as our telephony comprised four channels of ISDN2e, that's two ISDN2e lines each with two channels, bundled to provide four circuits on which we have our main number (switchboard), our fax number and ten DDI numbers.
As we're an SME we have to deal with BT Local Business – to quote BT verbatim "BT Local Business – A network of independent businesses backed by BT. Bringing technology products, services, expertise, and local understanding to your doorstep" hmmm… we'll see about that.
So, we like the product description, we like the price, we're already a BTnet customer but can we order the service? No, of course not… BT Local Business keep asking questions like "who maintains your PBX?" and "is your PBX maintained by BT?" … this goes on for days.
Eventually, after several days digging away at this we discover that there's a secret list of "supported equipment" that is 'authorised' for use with the service, that the PBX has to be on a support contract either directly with BT or with one of their authorised resellers supposedly to "maintain quality".
FAIL!  We have own PBX, its Asterisk (open source) they've never heard of it and tell us that it won't work and is not supported. All they can do for us is provide a "managed gateway" – what is this, I ask? Well, its a Cisco router that plugs in to the internet and does SIP Trunking on one side and presents an E1 (2Mbps) circuit with an emulation of an ISDN30e for us to plug our "legacy" exchange in to.
To hell with this! I'm not about to purchase an expensive Digium T1/E1 ISDN PRI card and back-to-back it on to a "gateway" that I have to (a) purchase and then (b) put on a support contract with BT!
Complaint to BT
So, I make a formal complaint to BT (not BT Local Business) that they're running some sort of closed shop and making it exceedingly difficult for me to be a customer.  I point out that we are "wires only" BTnet internet and I want a "wires only" (so to speak) SIP service, i.e. just the service and I'll put the kit on the end of it, make it work and support it.
In my complaint I reference BT document "Service Schedule for BT SIP Trunks", BT1163, Issue 1, 21st Feb 2012 that is a pretty straight forward service definition and is entirely opaque when it comes to what equipment can be used.
After a few days I get a call from the BT Business/BT Local Business area manager.
I pull a bit of a fast one and day that I changed our PBX and we're now running an Avaya IP Office 500 and a Cisco Callmanager Express system – this isn't a complete lie as I have one of each in our lab but they're for integration testing with Asterisk PBX.
The area manager agrees that these are supported and that actually we don't have to have a support contract with BT – it is recommended, not mandatory… progress!
The secret "authorised equipment" list
So, after a lot more digging around on the internet I eventually find an "authorised equipment" document: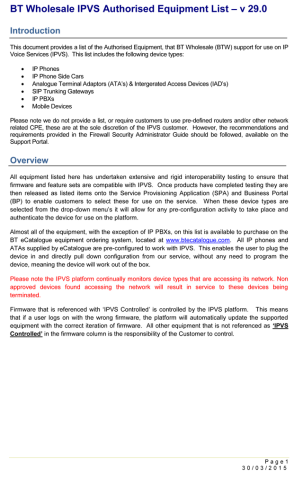 Note, if you will the part in red which reads:
Please note the IPVS platform continually monitors device types that are accessing its network. Non approved devices found accessing the network will result in service to these devices being 
terminated.
Excuse me Mt. BT but I thought that I was the customer?  What a load of bull testicles! It appears that I need BT to wipe my bottom for me!
Place the order for SIP trunk (again)
So, I place the order for the SIP Trunk service with BT Local Business (again) and this time I copy in the area manager.
The order gets acknowledged and about 3 weeks later something gets delivered.
What BT send us this time
So, this time we get:
An order confirmation email requiring a digital signature
A form to fill in a number porting request – despite the fact that the numbers are being ported "to BT" and "from BT"
A copy of the contract stuff back digitally signed (BT echosign)
A Customer LAN guide telling us the requiremments for access to the magic IP address 85.119.63.4
A couple of weeks later an email from the Complex Solutions Provisioning team with a Username and Password